Rolex: What Makes It So Successful?
When you think of a luxury watch, there's only one name that comes to mind; Rolex have been the Rolls Royce of watches for many years, their success is unmatched and excellence is part of the brand.
How Did This Amazing Company Start?
The brand Rolex was first conceived in 1905 when Hans Wilsdorf and Alfred Davis registered 'Wilsdorf & Davis', which became Rolex 3 years later, and in 1915, the Rolex Watch Co Ltd was formed. At the end of WWI, the British economy suffered and Rolex moved their HQ to Geneva and renamed the company Montres Rolex SA. Time saw the company become Rolex SA and the rest is history.
Submerged Oyster Models
The company focused on the problem of water penetration on the dial, which caused rust in the movement; a 3rd party casemaker invented a waterproof and dustproof watch casing and Rolex named it Oyster. Hermetically sealed, the watch movement is fully protected and this was the foundation of all the Rolex models. These were mainly put inside fish aquariums in their stores as a form of advertising, which made the term 'oyster' stick to the Rolex brand. If you would like to acquire such a timepiece, you may want to start looking at the Kalmar Antiques collection of antique Rolex watches for sale. A quick online search would also point you to an antique dealer near you wherein you can also browse an extensive catalogue of vintage luxury watches.
Self-Winding Mechanism
In 1931, a new self-winding mechanism was patented by Rolex; named perpetual rotor, a device that uses gravity to move a semi-circular plate that winds the mainspring. Then followed the 'Perpetual Oyster' model and in 1944, Wilsdorf created a trust to manage Rolex SA, which they do to this day. The management were always focused on two things: marketing and research & development, and both came together to provide the most successful watchmaker in the world.
Rolex Serial Numbers
Each and every Rolex timepiece has a unique serial number and that tells you the year of manufacture. This system has been tweaked over the years into the random serial number we have in 2023.
Professional Collections
Rolex started to make watches for extreme activities, which was very challenging, so much so that no other watchmaker would tackle.
Activities such as:
Deep-sea diving
Caving
Mountain climbing
Polar exploration
The Rolex Submariner was one example of the models that Rolex produced and the first ascent of Mount Everest in the 1950s saw a new model launched. The Rolex Explorer, which was quickly followed by the Rolex Explorer II in 1971.
World War II
Many RAF pilots wore Rolex watches and when they were shot down and captured, their expensive watch was always confiscated; when Wilsdorf found out about this, he offered to replace their watch and the payment would be delayed. Indeed, more than 3,000 RAF pilots and crew wrote letters to Rolex and duly received a new watch on interest-free credit.
Sponsorship
Rolex were heavily into sponsorship and have long used celebrities to wear their timepieces. Rolex is also the official timekeeper of Le Mans 24-hour race. Stars that were sponsored by Rolex include golfing stars Gary Player and Arnold Palmer. Many would argue that Rolex has the best marketing in the world and their timepieces are synonymous with engineering excellence.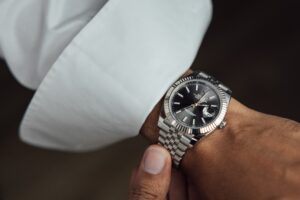 If you are looking to acquire a luxury Rolex watch, the best place to look is the online antique dealer, where you will find a large catalogue of genuine Rolex timepieces. Every man or woman should own at least one luxury watch, and Rolex is definitely the number one brand.